Welcome to our site!
Hello, and welcome to our website! Thank you for visiting, we are glad you are here! My name is Melody and my husband Sonny and I have been breeding AWESOME, LOVING, HEALTHY, LOYAL, FAMILY FRIENDLY, GENTLE family members for twenty years. We hand raise all of our puppies in our home, with the help of our 4 wonderful daughters (Natalie, Rebekah, Annie, & Lacey) and our GRANDDAUGHTER'S (Baby Sunnie & Baby Iris)!

From birth all of our puppies are cuddled with hugs and kisses, socialized, and spoiled daily. We breed according to the AKC standard for each breed.
​WE DO NOT BREED DESIGNER DANES (off colors such as lilac & brown to name a couple). There is a color code of ethics for a reason...
​AKC ONLY recogonizes 7 Great Dane colors - Black, Blue, Fawn, Brindle, Merle, Mantle, & Harlequin.
​Please explore our site and feel free to contact us with any questions.
---
---
🎄🎅🏻🤶🏻🎄🎅🏻🤶🏻🎄🎅🏻🤶🏻🎄🎅🏻🤶🏻🎄🎅🏻🤶🏻🎄🎅🏻🤶🏻🎄

---
Our Great Dane Babies have arrived!!!
Born October 14, 2023!!!
​We currently have 1 harlequin male available!!!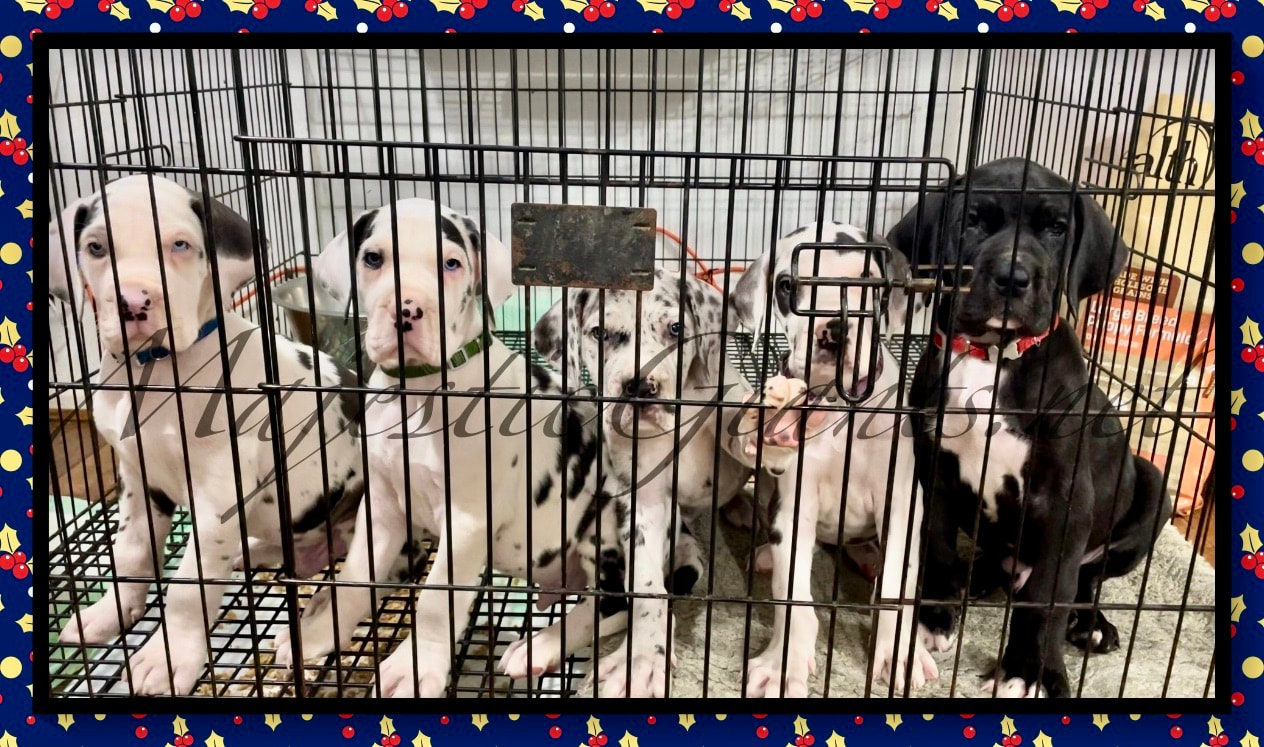 ---
🎄🎅🏻🤶🏻🎄🎅🏻🤶🏻🎄🎅🏻🤶🏻🎄🎅🏻🤶🏻🎄🎅🏻🤶🏻🎄🎅🏻🤶🏻🎄
---
Our Family!!!
---
ALL DEPOSITS AND PAYMENTS ARE NON-REFUNDABLE - THERE WILL BE NO REFUNDS GIVEN
ALL SALES INCLUDE KY SALES TAX
ALL CREDIT CARD SALES WILL INCLUDE A 6% SERVICE CHARGE


ALL IMAGES AND TEXT CONTENT IS PROPERTY OF MAJESTIC GIANTS, DUPLICATING, COPYING AND/OR USE OF THIS CONTENT IS PROHIBITED AND STRICTLY ENFORCED